Hot Topic
Conventional and Unique Quality Control Pathway of Mitochondria
Mitochondrial function is closely related to the onset of the neurodegenerative disorder and the aging process. From this background, much attention has been paid to elucidating the mitochondrial quality control pathway. Here, we introduce you to three individual pathways (extracellular vesicles (EVs)-related release pathway, Lysosome-related exocytosis, and Mitophagy) for mitochondrial quality control.

EVs-related release pathway

Lysosome-related exocytosis

Mitophagy

Ejection of damaged mitochondria and their removal by macrophages ensure efficient thermogenesis in brown adipose tissue


(Marco Rosina, et al., Cell Metabolism, 34, 533-548, 2022)

Mitolysosome exocytosis, a mitophagy-independent mitochondrial quality control in flunarizine-induced parkinsonism-like symptoms


(Feixiang Bao, et al., Science Advances, 8, eabk2376, 2022)

Neuronal induction of BNIP3-mediated mitophagy slows systemic aging in Drosophila
(Edward T. Schmid, et al., Nature Aging, 2, 494-507, 2022)

- Brown adipocytes eliminate damaged mitochondrial parts through EVs
- Thermogenic stimuli increase the release of mitochondrial EVs
- EVs exert a negative autocrine action on brown adipocyte thermogenesis
- bMACs actively take up mitochondrial EVs ensuring optimal brown adipose tissue thermogenesis

- Flunarizine (FNZ), a drug whose chronic use causes parkinsonism, led to parkinsonism-like motor dysfunction in mice
- FNZ induced mitochondrial dysfunction and decreased mitochondrial mass specifically in the brain
- Mitochondria were engulfed by lysosomes independent of mitophagy, followed by VAMP2- and STX4-dependent exocytosis
- The mitochondria-free cells generated FNZ-dependent method could survive for nearly 1 month

- Aging leads to a decline in mitophagy in the Drosophila brain with a concomitant increase in mitochondrial content
- Induction of BNIP3 in the adult nervous system induces mitophagy and prevents the accumulation of dysfunctional mitochondria in the aged brain
- Neuronal induction of BNIP3-mediated mitophagy increases organismal longevity and healthspan
- BNIP3-mediated mitophagy in the nervous system improves muscle and intestinal homeostasis in aged flies

Related Technique in this topic
Mitochondrial membrane potential detection
JC-1 MitoMP Detection Kit and MT-1 MitoMP Detection Kit
Mitochondrial superoxide detection
mtSOX Deep Red - Mitochondrial Superoxide Detection
Mitophagy detection
Mitophagy Detection Kit
Oxygen consumption rate assay
Extracellular OCR Plate Assay Kit
EVs Isolation
ExoIsolator Exosome Isolation Kit
EVs labeling
ExoSparkler Exosome Membrane Labeling Kit-Green, Red, Deep red
Lysosomal function assay
Lysosomal pH and mass detection Kit
Learn more about application data with multiple products here
Selection guide for mitochondria-related reagents
Mitochondria research is very multi-faceted, because the multi-functional organelle is not only involved in energy production in a cell, but other additional cellular functions. The active cycle of mitochondrial fusion and division induces morphological changes, which is called mitochondrial dynamics. Abnormalities in morphological control of mitochondria are associated with neurodegenerative diseases, metabolic disorders, aging, and so on. Therefore, the demand for long-term observation of mitochondrial dynamics has recently been increasing.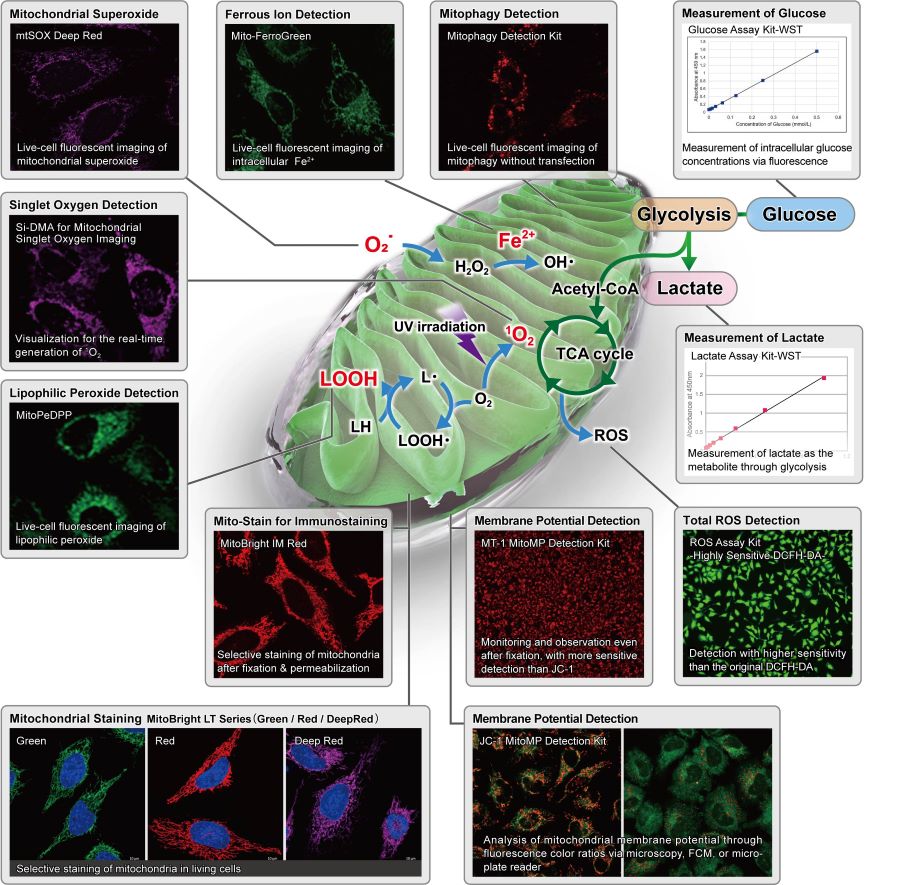 Selection Guide of Reagents
The following table lists reagents for mitochondrial research designed to stain and detect mitochondria (MitoBright LT, MitoTracker, etc.), mitochondrial membrane potential (JC-1, TMRM, TMRE, etc.), reactive oxygen species AKA 'ROS' (mtSOX, MitoSOX, etc.), mitophagy, and lipid peroxides.