Cell Counting Kit-8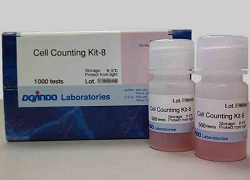 Cell Proliferation / Cytotoxicity Assay
Product code

CK04  Cell Counting Kit-8
| Unit size | Price | Item Code |
| --- | --- | --- |
| 1000 tests | | CK04-11 |
| 3000 tests | | CK04-13 |
| 10000 tests | | CK04-20 |
Component
| | | |
| --- | --- | --- |
| 1000 tests | 5 ml×2 | |
| 3000 tests | 5 ml×6 | |
| 10000 tests | 100 ml×1 | |
Product Description
Cell Counting Kit-8 (CCK-8) allows sensitive colorimetric assays for the determination of cell viability in cell proliferation and cytotoxicity assays. Dojindo's highly water-soluble tetrazolium salt, WST-8, is reduced by dehydrogenase activities in cells to give a yellow-color formazan dye, which is soluble in the tissue culture media. The amount of the formazan dye, generated by the activities of dehydrogenases in cells, is directly proportional to the number of living cells. The detection sensitivity of CCK-8 is higher than the other tetrazolium salts such as MTT, XTT, MTS or WST-1.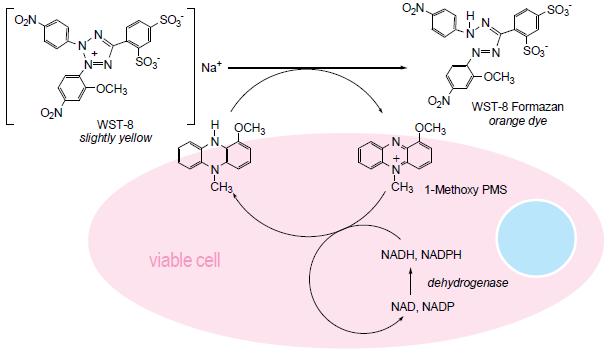 Features 
1) No radioisotope is required as in the [3H]-thymidine incorporation assay.
2) Both tetrazolium salts and formazan are highly water-soluble, eliminating the need to dissolve formazan as in the MTT assay.
3) Higher sensitivity and lower toxicity than other water-soluble tetrazolium salts (XTT, MTS).
4) No reagent preparation is required because it is a single-bottle solution type.
5) Reagent is more stable than other assay kits.
6) Can be used with media containing phenol red.
The "Chromogenic Substrate WST Series" and "Cell Counting Kit-8" were originally developed by Dojindo and are used worldwide for cell proliferation and cytotoxicity tests.