NTA-SAM Formation Reagent
Self Assembled Monolayer Reagent
Simple preparation of NTA-SAM on gold surface
Efficient Immobilization of histidine-tagged proteins
Suppress unspecific binding with unknown proteins
Product code

N475  NTA-SAM Formation Reagent

CAS No.

-
| Unit size | Price | Item Code |
| --- | --- | --- |
| 2 umol x 3 | $250.00 | N475-10 |
Order
2 umol x 3
Quantity may be adjusted within the cart.
Product Description
NTA forms a stable complex with heavy metals such as Ni, it is, therefore, applied to introduce metal ions onto NTA-biomolecules or NTA-compounds. These metal chelate compounds have been commonly used to detect specific substances which interact with metal ions such as His-Tagged proteins.

What is SAM Formation Reagent?
SAM (Self-Assembled Monolayer) is a highly organized thin layer of molecules formed on a solid surface by chemisorption. Due to its high applicability, SAM can be used on biosensors. However, unspecific binding is commonly observed while biomaterial samples are used. In the most of these cases, the concentration and combination of SAM reagents are not optimized for preparing an organized layer on a metal surface. Dojindo provides SAM Formation Reagents which are already optimized in one bottle and simple to use. The optimized reagent can reduce unspecific binding significantly.

Comparison Data
Dojindo SAM Formation Reagent gives us lower background and higher S/N ratio.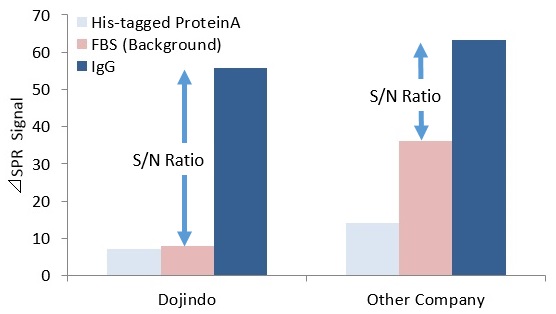 Technical info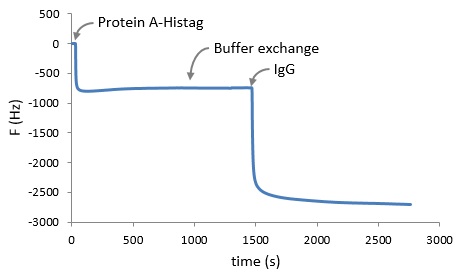 Experimental Conditions:
His-tagged ProteinA : 10 ug/ml His-tagged ProteinA in buffer
Buffer : 10 mM HEPES (pH 7.2) ,150 mM NaCl , 0.5%Tween-20
IgG : 5.5 ug/ml Rabbit IgG in buffer
Instrument: Affinix QNμ(QCM2008-LVKIT), INITIUM, Inc.
References
Open References
Leo JC, Oberhettinger P, Yoshimoto S, Udatha DB, Morth JP, Schutz M, Hori K, Linke D., "Secretion of the Intimin Passenger Domain is driven by Protein Folding.", Journal of Biological Chemistry ., 2016, doi: 10.1074/jbc.M116.731497.
Handling and storage condition
Specification

| | |
| --- | --- |
| Appearance: | White to slightly yellow solid |
Handling and storage condition
0-5°C