MQAE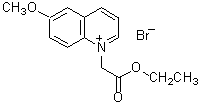 Reagent for Monitoring Chloride Ions
Product code

M024  MQAE

CAS No.

124505-60-8

Chemical name

N-Ethoxycarbonylmethyl-6-methoxyquinolinium bromide

MW

C14H16BrNO3=326.19
| Unit size | Price | Item Code |
| --- | --- | --- |
| 50 mg | $187.00 | M024-10 |
Order
50 mg
Quantity may be adjusted within the cart.
Chemical Structure

Product Description
MQAE with bromide ion as a counteranion has fluorescence excitation at 355 nm and emission at 460 nm. The fluorescent intensity of MQAE decreases in proportion to the chloride increase in cells. Chloride ion concentrations less than 50 mM may be monitored without being affected by pH changes. MQAE has high water solubility and membrane permeability.
Technical info
Reagents:
・5 mM MQAE/Krebs-HEPES buffer
・Krebs-HEPES buffer (20 mM HEPES, 128 mM NaCl, 2.5 mM KCl, 2.7 mM CaCl2, 1 mM MgCl2, 16 mM glucose, pH 7.4)

Protocol:
1. Wash the cells with Krebs-HEPES buffer 3 times.
2. Add 5 mM Cl probe solution to the cells and incubate at 37ºC for 1 hour.
3. Wash the cells with Krebs-HEPES buffer 5 times.
4. Determine the fluorescence intensity using a fluorescence microscope coupled with an image analyzer.
* Cell staining conditions depend on cell type, so it is necessary to optimize the conditions for each experiment
References
Open References
1) A. S. Verkman, M. C. Sellers, A. C. Chao, T. Leung and R. Ketcham, "Synthesis and Characterization of Improved Chloride-sensitive Fluorescent Indicators for Biological Applications", Anal. Biochem., 1989, 178, 355.
2) M. Inoue, M. Hara, X.-T. Zeng, T. Hirose, S. Ohnishi, T. Yasukura, T. Uriu, K. Omori, A. Minato and C. Inagaki, "An ATP-driven Cl- Pump Regulates Cl- Concentrations in Rathippocampal Neurons", Neurosci. Lett., 1991, 134, 75.
3) T. Nakamura, H. Kaneko and N. Nishida, "Direct Measurement of Chloride Concentration in Newt Olfactory Receptors with the Fluorescent Probe", Neurosci. Lett., 1997, 237, 5.
Handling and storage condition
Specification

| | |
| --- | --- |
| Appearance: | Slightly yellow to yellow powder |
| Purity (HPLC): | ≧ 95.0 % |
| IR spectrum: | Authentic |
Handling and storage condition
0-5°C