Biofilm TestPiece Assay Kit
Biofilm Formation Assay Kit: TestPiece
Easy handling with Dojindo's original TestPiece Holder
Minimize result variability
Product code

B606  Biofilm TestPiece Assay Kit
| Unit size | Price | Item Code |
| --- | --- | --- |
| 24 tests | $263.00 | B606-10 |
*Biofilm TestPiece Assay Kit (code : B606) is developed together with Biotechnology and Food Research Institute, Fukuoka Industrial Technology Center
*Biofilm TestPiece Assay Kit (code : B606) does not include 24-well plate. Please purchase recommended 24-well plate or 24-well plate package (code: B608)
Order
24 tests
Quantity may be adjusted within the cart.
Component
24 tests
・TestPiece Holder
・Crystal Violet Solution
×1
50 ml ×1
Description
Biofilms are found in various environments. They are aggregates composed of microorganisms and their metabolites, such as extracellular polysaccharides. In recent years, there has been an increasing need to evaluate the amount of biofilm formed on materials, as well as an increasing need for drugs that inhibit biofilm formation. The Biofilm TestPiece Assay Kit uses crystal violet staining to measure the difference in biofilm formation between different materials. By using the Dojindo-developed lid, "TestPiece Holder", a test piece can be firmly fixed, and the biofilm will not peel off during washing or staining processes. As well, multiple samples can be assayed simultaneously.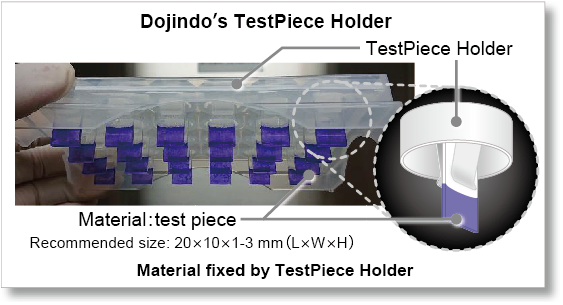 Crystal Violet (CV) Staining
In 1982, Dr. Karsten Pedersen determined a correlation between the absorbance of crystal violet when staining biofilms and the dry weight of biofilm. The crystal violet staining method is still widely used for biofilm detection to this day.
Reference: K. Pedersen,"Method for Studying Microbial Biofilms in Flowing-Water Systems", Appl. Environ. Microbiol., 1982, 43(1), https://www.ncbi.nlm.nih.gov/pmc/articles/PMC241775/
Feature 1 : Dramatically reduced time and effort for measurement
Conventional methods require laborious washing steps for each well. With Dojindo's TestPiece Holder, well-washing is unnecessary, and multiple samples can be processed easily.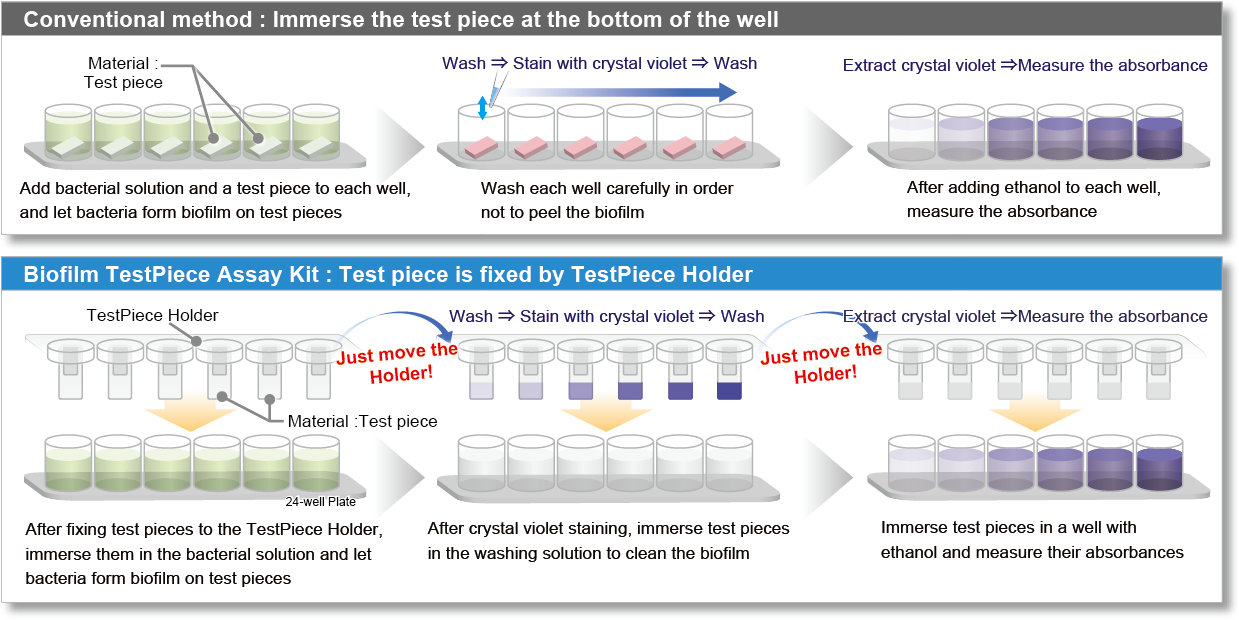 Feature 2: Less variable results than existing assays
In the conventional method, biofilm is formed by placing a test piece on the bottom of a petri dish or beaker. The biofilm tends to peel off during the washing process, which results in inconsistent measurement values.
In this kit, the test piece is fixed to the TestPiece Holder, which prevents biofilm from peeling off during operation and produces less variable results.

Experimental example: Comparison of biofilm formation among test pieces of various materials
Using Dojindo's kit, we were able to quantify the amount of biofilm that Staphylococcus aureus had formed on test pieces made of various materials (polystyrene [PS], polypropylene [PP], fiber-reinforced plastic [FRP], stainless steel [SUS], float glass [GL], and silicon rubber [SLC]).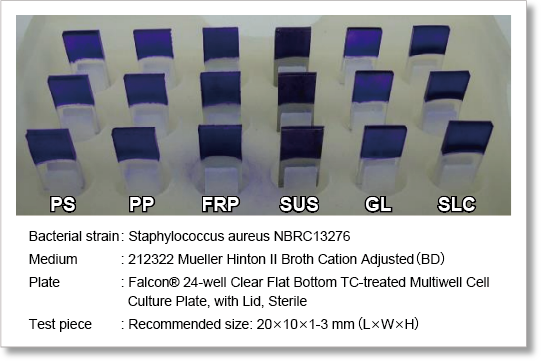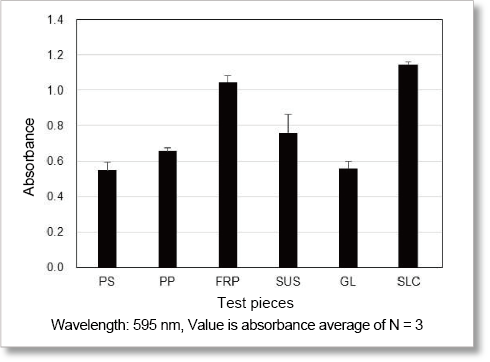 Caution: 24-well plate is not included in Biofilm TestPiece Assay Kit (code: B606)
This kit consists of only the TestPiece Holder and dye solution (Crystal Violet solution). It does not include a 24-well plate, which is required as a receiving plate for TestPiece Holder.
For details, please refer to "Recommended 24-well plate" below.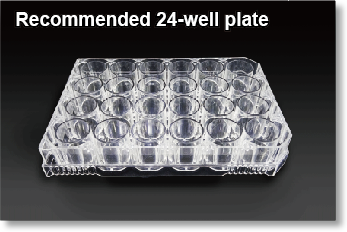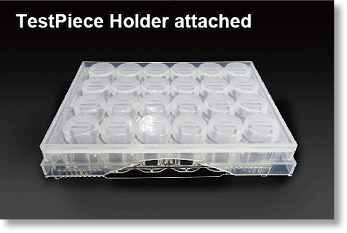 Falcon® 24-well Clear Flat Bottom TC-treated Multiwell Cell Culture Plate, with Lid, Sterile, 50/Case,
Product Number 353047
Falcon® is a registered trademark of Corning Incorporeted, Life Sciences.
A limited number of 24-well plates are available *†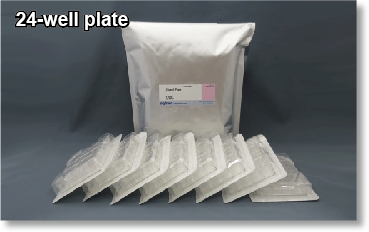 24-well plate for Biofilm TestPiece Assay Kit (product code: B608)
The 24-well plate package (B608) contains 8 plates that are compatible with the TestPiece Holder attached to the Biofilm TestPiece Assay Kit (B606). This 24-well Plate package (B608) is sold in limited quantities.
*The 24-well plate (B608) and the recommended 24-well Plate are the same plate.
†The 24-well plate (B608) is not sold individually.
You can order 1 set of B608 when you order 1 set of Biofilm TestPiece Assay Kit (B606).
Alternative product catalog: Measuring biofilm formation using pins
We have a variety of pin plate assay kits to measure the amount of biofilm formation or to measure the metabolic activity of bacteria in biofilm. Please select the kit that best suits your purpose.
The Biofilm Formation Assay Kit (product code: B601) is a pin plate assay for biofilm formation and also uses crystal violet staining for measurement. It contains all necessary components in a single kit.
References
Open References
1) Shutao Zhang, Xinhua Qu, Juyang Jiao, Haozheng Tang, Minqi Wang. You Wang, Hongtao Yang, Weien Yuan, Bing Yue, "Felodipine enhances aminoglycosides efficacy against implant infections caused by methicillin-resistant Staphylococcus aureus, persisters and biofilms", Bioact. Mater., 2021, doi:10.1016/j.bioactmat.2021.11.019.
Q & A
Q

Can I use a 24-well plate different from the specified one?

A

No. TestPiece Holder is only compatible with the specified 24-well plates. This is bescause the shapes of 24-well plates vary slightly among companies.

Thus, Dojindo's TestPiece Holder is only compatible with Falcon® 24-well plates.
Q

Is it possible to reuse the TestPiece Holder?

A

It is not recommended, due to the possibility of bacterial contamination.
Q

What kinds of bacteria have you measured?

A

We have evaluated the following bacteria:

Staphylococcus aureus

Pseudomonas aeruginosa

Escherichia coli (E. Coli)

For examples of experiments using the above bacteria and culture conditions, please refer to the

experiment manual.
Handling and storage condition
Handling and storage condition
Room temperature