1-Methoxy PMS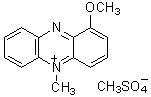 Electron Mediator
Product code

M003  1-Methoxy PMS

CAS No.

65162-13-2

Chemical name

1-Methoxy-5-methylphenazinium methylsulfate

MW

C15H16N2O5S=336.36
| Unit size | Price | Item Code |
| --- | --- | --- |
| 100 mg | $103.00 | M003-10 |
Order
100 mg
Quantity may be adjusted within the cart.
Reaction Scheme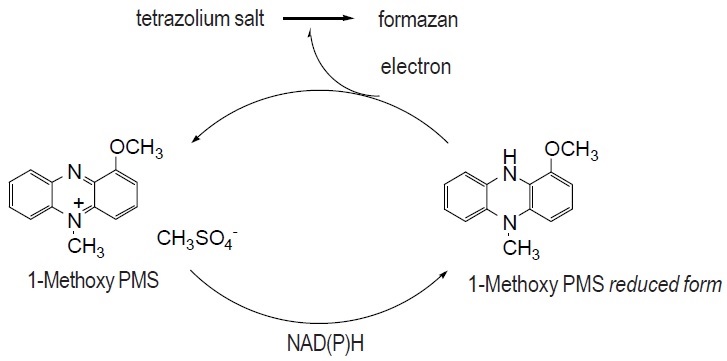 Product Description
1-Methoxy PMS is easily dissolved by water and alcohol. Its redox potential is +63 mV. Though phenazinium methylsulfate (PMS) is commonly used as an electron carrier for NADH-tetrazolium, the stability of PMS is very poor. However, 1-Methoxy PMS solution can be stored at room temperature for over 3 months without protection from light. An electron of NAD(P)H is transfered by 1-Methoxy PMS to tetrazolium salt (Reaction Scheme). Therefore, it is a useful reagent for NAD(P)H-tetrazolium-based assay systems.
References
Open References
1) R. Hisada and T. Yagi, "1-methoxy-5-methylphenazinium Methyl Sulfate", J. Biochem., 1977, 82, 1469.
2) 八木達彦, "1-メトキシ PMS", Dojin News, 1979, 14, 1.
3) S. Nakamura, K. Arimura, K. Ogawa and T. Yagi, "Use of 1-methoxy-5-methylphenazinium Methyl Sulfate(1-methoxypms) in the Assay of Some Enzymes of Diagnosticimportance", Clin. Chim. Acta,, 1980, 101, 321.
4) R. Hisada, W. Shinkai and T. Yagi, "Photochemical Stabilities and Biochemical Reactivities of Some Derivatives of 5-methylphenazinium methyl Sulfate(Phenazine Methosulfate)", J. Appl. Biochem., 1981, 3, 535.
5) C. J. von Noorden and J. Tas, "The Role of Exogenous Electron Carriers in NAD(P)-dependent Dehydrogenase Cytochemistry Studied in vitro and with a Model System of Polyacrylamide Films", J. Histochem. Cytochem., 1982, 30, 12.
6) H. Tsuge, Y. Kuroda, A. Iwamoto and K. Ohashi, "Partial Purification and Property of Pyridoxine (Pyridoxamine)-5'-phosphate Oxidase Isozymes from Wheat Seedlings", Arch. Biochem. Biophys., 1982, 217, 479.
7) M. Rabinovitch, J. P. Dedet, A. Ryter, R. Robineaux, G. Topper and E. Brunet, "Destruction of Leishmania Mexicana Amazonensis Amastigotes within Macrophages in Culture by Phenazine Methosulfate and Other Electron Carriers", J. Exp. Med., 1982, 155, 415.
Handling and storage condition
Specification

| | |
| --- | --- |
| Appearance: | Dark red to reddish purple powder |
| Purity (Absorbance): | ≧ 95.0 % |
| Solubility in water: | To pass test (clear, pink) |
| Molar absorptivity: | ≧ 2,700 (around 505 nm) |
| m.p.: | ≧ 170oC (dec.) |
| IR spectrum: | Authentic |
Handling and storage condition
Ambient temperature