Cesibor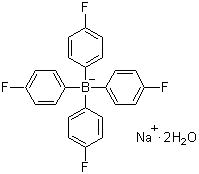 Gravimetric Analysis Reagent for Cation
Product code

C007  Cesibor

CAS No.

25776-12-9

Chemical name

Tetrakis(4-fluorophenyl)borate, sodium salt, dihydrate

MW

C24H16BF4Na・2H2O=450.21
| Unit size | Price | Item Code |
| --- | --- | --- |
| 1 g | $236.00 | C007-10 |
Order
1 g
Quantity may be adjusted within the cart.
Description
Cesibor is a cesium ion selective tetraphenylborate compound, and is utilized as a precipitation reagent for cesium ion. Cesibor can precipitate only cesium ion from a mixture of ammonium, potassium, and cesium ions.
Chemical Structure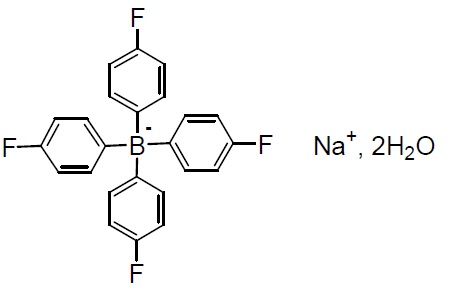 References
Open References
1) C. E. Moore, F. P. Cassaretto, H. Posvic and J. J. McLaffery, "Studies in the Tetraarylborates Part II. The Preparation and Reagent Properties of Sodium tetrakis(p-fluorophenyl)borate, a Selective Reagent for Cesium", Anal. Chim. Acta, 1966, 35, 1.
2) C. M. Tsai, G. Izawa, T. Omori and T. Shiokawa, "A New Method for the Determination of in Environmental Materials", Radiochem. Radioanal. Letters, 1975, 20, 167.
3) M. Tsubouchi, N. Yamasaki and K. Yanagisawa, "Two-Phase Titration of Poly(oxyethylene) Nonionic Surfactants with Tetrakis(4-fluorophenyl)borate", Anal. Chem., 1985, 57, 783.
Handling and storage condition
Specification

| | |
| --- | --- |
| Appearance: | White powder |
| Purity (Grav.): | ≧ 98.0 % |
| Solubility in water: | To pass test (clear, colorless) |
| Solubility in Acetone: | To pass test (clear, colorless) |
| Water content: | 6.0 - 10.0 % |
| IR spectrum: | Authentic |
Handling and storage condition
0-5°C