Zincon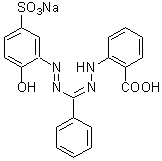 Metal Indicator
Product code

Z002  Zincon

CAS No.

62625-22-3

Chemical name

1-(2-Hydroxycarbonylphenyl)-5-(2-hydroxy-5-sulfophenyl)-3-phenylformazan, sodium salt

MW

C20H15N4NaO6S=462.41
| Unit size | Price | Item Code |
| --- | --- | --- |
| 1 g | | Z002-10 |
| 5 g | | Z002-12 |
Description
Zincon is a colorimetric reagent for Zn and Cu detection, and a metal indicator in EDTA titration. This reagent is insoluble in organic solvents, but slightly soluble in water and alcohol. Its proton dissociation constants are reported to be pKa1=7.9-8.3, pKa2=7.9-8.3 and pKa3=13-14. The aqueous solution of Zincon is yellow or orange-yellow in weak alkaline conditions, and turns blue in the presence of Cu (maximum wavelength: 600 nm, molar absorptivity: 1.9×104) and Zn (pH 8.5-9.5, maximum wavelength: 620 nm, molar absorptivity: 23,000). Dr. Koupparis and others used Zincon for the automated flow injection spectrometric determination of 1-10 mg per ml levels of Zn at 80 samples per hour. The detection limit was reported to be 0.05 μg per ml.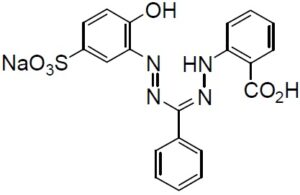 Technical info
Chelate titration: Ca, Cd, Hg, Pb, Zn
Colorimetry: Cu, Zn
References
Open References
D. W. Margerum, et al., Anal.Chem, 32, 1157 (1960);
K.Yoshimura, et al., Talanta, 25, 579 (1978);
G. Ackermann, et al., Talanta, 26, 693 (1979);
K. Yoshimura, et al., Talanta, 32, 345 (1985);
M. A. Koupparis, et al., Analyst, 111, 1311 (1986);
C. M. Corns, et al., Ann. Clin. Biochem., 24, 591 (1987);
E. Hilario, et al., J. Biochem. Biophys. Methods, 21, 197 (1990);
R. Liu, et al., Analyst, 120, 569 (1995);
P. Richter, et al., Analyst, 122, 1045 (1997);
M. P. Cuajungco, et al., Brain Res., 799, 97 (1998).
Handling and storage condition
Specification

| | |
| --- | --- |
| Appearance: | Dark reddish purple powder |
| Solubility in NaOH solution: | To pass test (clear, dark red) |
| Solubility in Methyl alcohol: | To pass test (clear, dark red) |
| Absorbance: | ≧ 0.375 (around 490 nm) |
| Sulfated ash: | 15.0 - 25.0 % |
| Sensitivity: | To pass test |
Handling and storage condition
Ambient temperature