ES/iPS Differentiation Monitoring Kit - Human Endoderm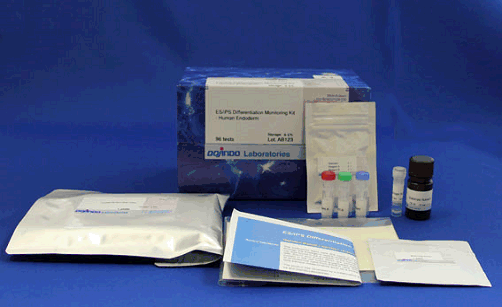 Endoderm Differentiation Monitoring
ELISA based endoderm differentiation monitoring
Continuous cell culture after measurement is possible
Great correlation with PCR, Flow cytometry and Immunostaining
Product code

ES01  ES/iPS Differentiation Monitoring Kit - Human Endoderm
| Unit size | Price | Item Code |
| --- | --- | --- |
Product Description :
One of the secretory proteins as in a culture medium was found to be a marker of the conversion level of ES and iPS to endodermal cells. (Published in: H. Iwashita, S. Kume, PloS ONE., 2013, 8(5): e64291)
The amount of this marker protein in the cell culture supernatant is determined by ELISA. It can be used to monitor the efficiency of differentiation of endodermal cells from ES/iPS cells. Since this kit is designed for the 96-well microplate format, it is suitable for multiple sample measurements, such as screening of inducers for differentiation or an optimization of culture conditions.
This product was developed by a collaborative work between Institute of Molecular Embryology and Genetics, Kumamoto University and Dojindo Laboratories.
RT-PCR Measurement of each Marker :
The secretory protein has a good correlation with Sox 17 and Foxa2 which are commonly used proteins as markers of endoderm differentiation.
Comparison with Conventional Techniques :
Dojindo Kit
PCR
Immunostaining
Flow Cytometry
Procedure
3 hours
> 7 hours
1-2 days
> 4 hours
Sample
Supernatant
mRNA
Whole cells
Whole cells
Continuous
Cell Culture
Possible
Impossible
Impossible
Impossible
Marker
Marker Protein
Sox17, Foxa2
Sox17, Foxa2

CXCR4
Measurement of Procedure :
References
Open References
H. Iwashita, N. Shiraki, D. Sakano, T. Ikegami, M. Shiga, K. Kume, S. Kume, PloS ONE., 2013, 8(5): e64291.

Handling and storage condition
Handling and storage condition
0-5°C