WST-3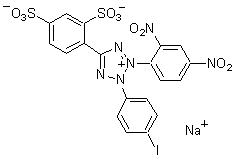 Reductive Chromogenic Dye
Product code

W202  WST-3

CAS No.

515111-36-1

Chemical name

2-(4-Iodophenyl)-3-(2,4-dinitrophenyl)-5-(2,4-disulfophenyl)-2H-tetrazolium, monosodium salt

MW

C19H10IN6NaO10S2=696.34
| Unit size | Price | Item Code |
| --- | --- | --- |
| 100 mg | $210.00 | W202-10 |
Order
100 mg
Quantity may be adjusted within the cart.
Description
Oxidation Reaction


Product Description of WSTs
Water-soluble tetrazolium salts (WSTs) were developed by introducing positive or negative charges and hydroxy groups to the phenyl ring of the tetrazolium salt. Positive charges, such as trialkylammonio groups, improve the water-solubility of the formazan dye. However, a large cation is easily precipitated out with organic anions such as carboxylate or phosphate. Though a hydroxy group also improved the water-solubility of the tetrazolium salt, the corresponding formazan dye was not sufficiently water-soluble. Dojindo's WSTs have sulfonate groups added directly or indirectly to the phenyl ring to improve water-solubility. Dojindo also offers several newly developed phenlyazo-type tetrazolium salts, which are easily reduced with NADH or other reducing agents to give orange or purple formazan dyes. Due to the phenylazo group, the color changes with heavy metal ion. Since the water solubility of Dojindo's WSTs is high (except WST-10), 10 mM to 100 mM solutions can be prepared.
Technical info

Fig 2 Absorption Spectra of WST Formazan Dyes
References
Open References
M. Ishiyama, et al., Analyst, 120, 113 (1995).
Handling and storage condition
Specification

| | |
| --- | --- |
| Appearance: | Pale yellow to pale brown powder |
| Solubility in water: | To pass test (clear, yellowish brown) |
| Molar absorptivity: | ≧ 36,000 (around 235 nm) |
| Sensitivity: | To pass test |
| Thin Layer Chromatogram: | To pass test |
| IR spectrum: | Authentic |
| NMR spectrum: | Authentic |
Handling and storage condition
0-5°C, protect from light