TD19C6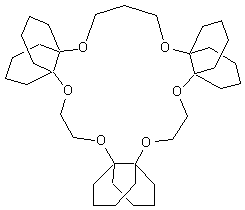 Ionophore
Product code

T402  TD19C6

CAS No.

259874-18-5

Chemical name

2,6,13,16,23,26-Hexaoxaheptacyclo[25.4.4.47,12.417,22.01,17.07,12.017,22]tritetracontane

MW

C37H62O6=602.88
| Unit size | Price | Item Code |
| --- | --- | --- |
| 10 mg | $Call for Price | T402-10 |
Order
10 mg
Quantity may be adjusted within the cart.
Description
TD19C6 is an ammonium ion selective ionophore. It is difficult to separate ammonium ion and potassium ion because they are close in ion size. The selectivity of TD19C6 for ammonium ion is about 10 times that of potassium ion, which is nearly the same selectivity of nonactin.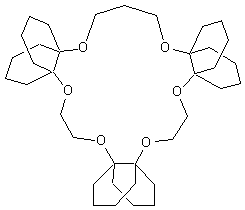 References
Open References
1) K. Suzuki, D. Siswanta, T. Otsuka, T. Amano, T. Ikeda, H. Hisamoto, R. Yoshihara and S. Ohba, "Design and Synthesis of a More Highly Selective Ammonium Ionophore Than Nonactin and Its Application as an Ion-Sensing Component for an Ion-Selective Electrode", Anal. Chem., 2000, 72, 2200.
Handling and storage condition
Specification

| | |
| --- | --- |
| Appearance: | White powder |
| Solubility in Tetrahydrofuran: | To pass test (clear, colorless) |
| Thin Layer Chromatogram: | To pass test |
| IR spectrum: | Authentic |
Handling and storage condition
Ambient temperature