SATP
Metal Indicator
Product code

S003  SATP

CAS No.

3449-05-6

Chemical name

Salicylideneamino-2-thiophenol

MW

C13H11NOS=229.3
| Unit size | Price | Item Code |
| --- | --- | --- |
| 1 g | $119.00 | S003-10 |
| 5 g | $503.00 | S003-12 |
Order
Quantity may be adjusted within the cart.
Product Description
SATP is a colorimetric solvent extraction reagent for Cu, In, Ni, and Sn. It is insoluble in water, but soluble in organic solvents. SATP forms yellow or brown complexes with various metal ions. The Sn(II) complex can be extracted with benzene (maximum wavelength: 415 nm, molar absorptivity: 1.61×105), xylene and toluene.
Chemical Structure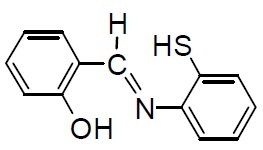 References
Open References
1. E. Uhleman, et al., Extraktion Und Photometrische Bestimmung Von Zinn Und Blei Mit 2-(o-Hydroxyphenyl)Benzthiazolin. Anal Chim Acta. 1973;65:319-328.
Handling and storage condition
Specification

| | |
| --- | --- |
| Appearance: | White crystalline powder |
| Solubility in ethyl alcohol: | To pass test (clear, colorless to almost colorless) |
| Absorbance (Tin complex): | 0.530 (around 415 nm) |
| Sulfated ash: | 1.0% |
| IR spectrum: | Authentic |
Handling and storage condition
Ambient temperature