Nitro-TB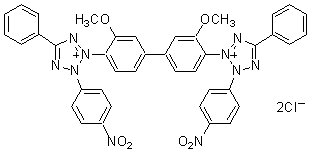 Reductive Chromogenic Dye
Product code

N011  Nitro-TB

CAS No.

298-83-9

Chemical name

3,3'-[3,3'-Dimethoxy-(1,1'-biphenyl)-4,4'-diyl]-bis[2-(4-nitrophenyl)-5-phenyl-2H-tetrazolium chloride]

MW

C40H30Cl2N10O6=817.64
| Unit size | Price | Item Code |
| --- | --- | --- |
| 100 mg | $45.00 | N011-10 |
| 1 g | $233.00 | N011-12 |
Order
Quantity may be adjusted within the cart.
Reaction Scheme

Product Description
Nitro-TB is dissolved by hot water or hot methanol. Other organic solvents such as acetone and ether cannot solubilize Nitro-TB. Nitro-TB is easily reduced by dehydrogenase to purple formazan dye aggregates. It is used for dehydrogenase detection on agarose gels.
References
Open References
1) K-C. Tsou, C-S. Cheng, M. M. Nachlas and A. M. Seligman, "Synthesis of Some p-Nitrophenyl Substituted Tetrazolium Salts Electron Acceptors for the Demonstration of Dehydrogenases", J. Am. Chem. Soc., 1956, 78, 6139.
2) J. R. Baker, D. V. Zyzak, S. R. Thorpe and J. W. Baynes, "Mechanism of Fructosamine Assay: Evidence against Role of Superoxide as Intermediate in Nitroblue Tetrazolium Reduction", Clin. Chem., 1993, 39, 2460.
Handling and storage condition
Specification

| | |
| --- | --- |
| Appearance: | Yellow crystalline powder |
| Purity (Absorbance): | ≧ 98.0 % |
| Solubility in water: | To pass test (clear, pale yellow or yellow) |
| Solubility in Methyl alcohol: | To pass test (clear, pale yellow or yellow) |
| Solubility in Tris buffer: | To pass test (clear, pale yellow or yellow) |
| Molar absorptivity: | ≧ 63,000 (around 257 nm) |
| Water content: | ≦ 5.0 % |
| Sensitivity: | To pass test |
| Loss on drying (110 °C): | ≦ 9.5 % |
| Sulfated ash: | ≦ 0.20 % |
| IR spectrum: | Authentic |
| Thin Layer Chromatogram: | Correspond to standard Nitro-TB |
Handling and storage condition
Ambient temperature