R-Phycoerythrin Labeling Kit - NH2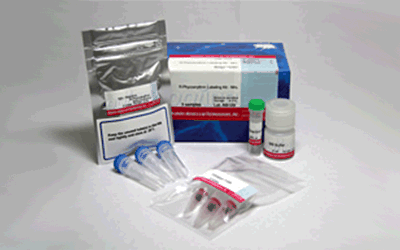 Antibody / Protein Labeling
Only 3 hours to get conjugates
All processes in a single filtration tube
High recovery of conjugates
Applicable for 50-200μg IgG
Product code

LK23  R-Phycoerythrin Labeling Kit - NH2
| Unit size | Price | Item Code |
| --- | --- | --- |
| 3 samples | $429.00 | LK23-10 |
Order
3 samples
Quantity may be adjusted within the cart.
Component
3 samples
・NH2-Reactive R-Phycoerythrin
・WS Buffer
・Reaction Buffer
・Filtration Tube
3 tubes
4 ml x1
200 μlx1
3 tubes
Description
Phycobiliproteins are fluorescent proteins derived from cyanobacteria and eukaryotic algae. Their fluorescence is much higher than chemical fluorescent probes such as fluorescein and rhodamine. R-Phycoerythrin (R-PE) is one of the phycobiliproteins and has a red fluorescence at around 578 nm, and it can be excited at 488nm (Fig. 1). Because of this high fluorescence, phycobiliprotein labeled antibodies, and other molecules can provide greater sensitivity in flow cytometry and immunostaining. R-phycoerythrin Labeling Kit-NH2 is for simple and rapid preparation of R-PE-labeled IgG (Fig. 2). NH2-reactive R-PE (a component of this kit) has an activated ester group and can easily make a covalent bond with an amino group of the target molecule without any activation process. The filtration tube in this kit allows a quick buffer exchange and concentration of sample IgG solution. This kit contains all of the reagents necessary for R-PE labeling, including the Storage buffer for conjugates.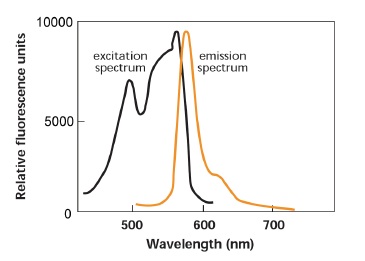 Fig. 1 Fluorescence spectrum of R-PE
Excitation wavelength: 566 nm
Emission wavelength: 578 nm


Fig. 2 IgG labeling reaction of NH2-reactive R-PE
Precaution
♦ The molecular weight of the protein to be labeled with this kit should be greater than 50,000.
♦ IgG or R-phycoerythrin-conjugated IgG is always on the membrane of the filtration tube during the labeling process.
♦ If the IgG solution contains other proteins with molecular weight larger than 10,000, such as BSA or gelatin, purify the IgG solution prior to labeling R-phycoerythrin with this kit.
♦ If the IgG solution contains small insoluble materials, centrifuge the solution and use the supernatant for the labeling.
| | |
| --- | --- |
| Developer | Dojindo Molecular Technologies, Inc. |
References
Open References
1) K.R. McCarthy, A. Watanabe, M. Kuraoka, K.T. Do, C.E. McGee, G.D. Sempowski, T.B. Kepler, A.G. Schmidt, G. Kelsoe and S.C. Harrison, "Memory B Cells that Cross-React with Group 1 and Group 2 Influenza A Viruses Are Abundant in Adult Human Repertoires", Immunity., 2018, 48, (1), 174.
2) K.Y Su, A. Watanabe, C.H. Yeh, G. Kelsoe, M. Kuraoka, "Efficient Culture of Human Naive and Memory B Cells for Use as APCs", J. Immunol.., 2016, 197, (10), 4163.
3) T. Tsujikawa, T. Yaguchi, G. Ohmura, S. Ohta, A. Kobayashi, N. Kawamura, T. Fujita, H. Nakano, T. Shimada, T. Takahashi, R. Nakao, A. Yanagisawa, Y. Hisa, Y. Kawakami, "Autocrine and paracrine loops between cancer cells and macrophages promote lymph node metastasis via CCR4/CCL22 in head and neck squamous cell carcinoma", Int. J. Cancer., 2013, 132, (12), 2755.
4) Y. Inaguma, Y. Akahori, Y. Murayama, K. Shiraishi, S. Tsuzuki-Iba, A. Endoh, J. Tsujikawa, A. Demachi-Okamura, K. Hiramatsu, H. Saji, Y. Yamamoto, N. Yamamoto, Y. Nishimura, T. Takahashi, K. Kuzushima, N. Emi, Y. Akatsuka, "Construction and molecular characterization of a T-cell receptor-like antibody and CAR-T cells specific for minor histocompatibility antigen HA-1H", Gene Ther.., 2014, 21, (6), 575.
5) A. Watanabe, K. R. McCarthy, M. Kuraoka, A. G. Schmidt, Y. Adachi, T. Onodera, K. Tonouchi, T. M.Caradonna, G. Bajic, S. Song, C. E. McGee, G. D. Sempowski, F. Feng, P. Urick, T. B. Kepler, Y. Takahashi, S. C. Harrison, and G. Kelsoe, 'Antibodies to a Conserved Influenza Head Interface Epitope Protect by an IgG Subtype-Dependent Mechanism.', Cell.., 2019, 177, (5), 1124.
Q & A
Q

Can I use this kit for other proteins?

A

Yes, if the molecular weight is higher than 50,000, and it has a reactive primary or secondary amino group. Follow the protocol for IgG labeling with 0.5-1 nmol of sample protein.
Q

How many R-PE molecules per IgG are introduced?

A

The average number of R-PE molecule per IgG is 1 to 2.
Q

Does unconjugated NH2-reactive R-PE still have an activated ester after the labeling reaction to IgG?

A

No. It is completely hydrolyzed during the reaction.
Q

Does NH2-reactive R-PE form an oligomer during the labeling reaction?

A

No. Since all amino groups of NH2-reactive R-PE are blocked, no oligomerization is possible.
Q

What is the minimum amount of IgG that can be labeled with LK23?

A

The minimum amount is 50 μg. There is no significant difference in sensitivity and background between 50 μg and 200 μg of IgG.
Q

Do I have to use WS buffer included with the kit?

A

Yes. Use the WS buffer to prepare a stock solution of the conjugate. However, you can choose any kind of buffer appropriate to dilute the conjugate stock solution for your experiment.
Q

How long is the conjugate stable?

A

If you store at 4ºC, it is stable for over 2 months. For longer storage, add 100% volume of glycerol, aliquot, and store at -20ºC. However, please note that the stability depends on the protenitself.
Handling and storage condition
Handling and storage condition
0-5°C, Protect from moisture