-Cellstain- CytoRed solution

Live Cell Staining
Product code

C410  -Cellstain- CytoRed solution

Chemical name

7-Isobutyloxycarbonyloxy-3H-phenoxaziN-3-one, DMSO solution
| Unit size | Price | Item Code |
| --- | --- | --- |
| 1 ml | $160.00 | C410-10 |
Order
1 ml
Quantity may be adjusted within the cart.
Description
Product Description
CytoRed is cell membrane permeable and accumulates inside of viable cells as resorufin (Fig. 1). CytoRed has a much wider spectrum than BCECF or Calcein, so filters for fluorescein and rhodamine can also be used. The excitation and emission wavelengths of resorufin are 560 nm and 590 nm, respectively. A photo of cells stained with CytoRed is shown in Fig. 2.

Fig. 1 Cell staining mechanism
Technical info
Staining Procedure
1.Prepare 1 mM CytoRed solution with DMSO. Dilute it to prepare 10 μM CytoRed solution with culture medium or an appropriate buffer.a)
2.Prepare a 1×105-1×106 cells/ml cell suspension and culture the cells in a chamber slide.
3.Remove culture medium and wash cells with culture medium (PBS-Hanks medium, etc).
4.Add CytoRed solution to the cells, and incubate the chamber at 37ºC for 30 min to 1 hour.
5.Remove the culture medium from cells and add new medium.b)
6.Wash cells twice with PBS or an appropriate buffer.
7.Observe the cells under a fluorescence microscope with 560 nm excitation and 590 nm emission filters.
a) Incubate the MitoRed buffer solution at 37ºC prior to adding to cells.
b) For fixing after washing cells, add 10% formarin buffer and incubate for 15-20 min, and then wash with PBS.
Data
Staining Data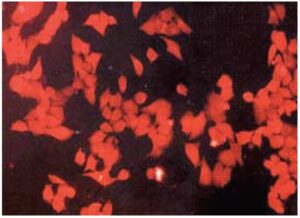 Fig. 2 Cell staining with CytoRed
Cell type: HeLa
References
Open References
1. M. Ishiyama, et al., A Resorufin Derivative as a Fluorogenic Indicator for Cell Viability. Anal Sci. 1999;15:1025-1028.
Handling and storage condition
Specification

| | |
| --- | --- |
| Appearance: | Yellowish orange liquid |
| Dye content: | To pass test |
Handling and storage condition
-20°C, Protect from light
Danger / harmful
symbol mark